Description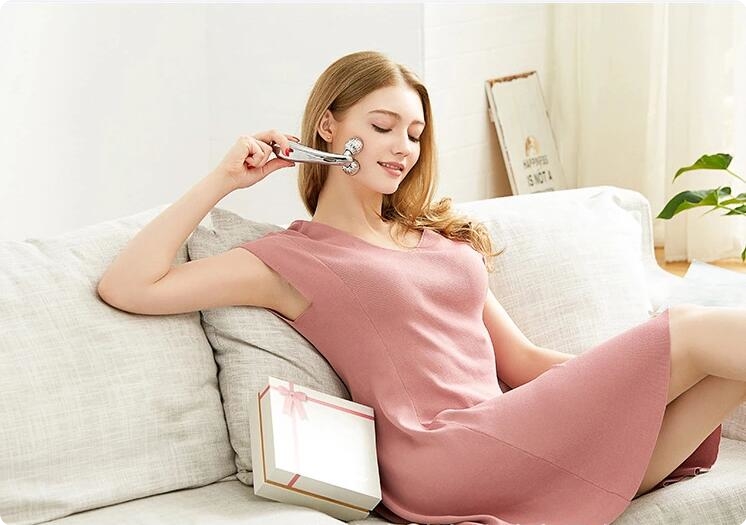 What is Microcurrent?
Microcurrent is an innovations in the anti-aging industry,and one of the hottest clinically tested therapy treatment. It is used in top spas and medical offices for firming of aging skin,facial contouring and toning. Microcurrent is a low-level current that mimics the body's natural current and can provide both instant and cumulative anti-aging results. Because microcurrent works sub-sensory, the treatment is soothing and most clients feel nothing at all.
About this device:
√ SOLAR ENERGY RECHARGE: No battery or charge cord is need while using this Microcurrent face lifting device. The central part of handle can produce microcurrent after absorption light of the sun.
√ Microcurrent: This Microcurrent face massage tool can promote the absorption of nutrients,activate the cells,replenish microcurrent lost due to increasing age and achieve more elastic skin.
√ 70 DEGREE V-SHAPED LIFTING:  This Microcurrent face lifting device with unique V-shaped rollers can massage face and other parts of your body (neck,arm, leg, buttocks, breasts…).  This  Microcurrent face massage tool can also achieve the effect of body slimming, face lifting, skin tightening and releave fatigue when you feel tired.
√ 3D ROLLER DESIGN: With new kneading technology, 360 degrees rotate design. While massaging, This Microcurrent face lifting device gives you a double focus point during rolling back and forth. Tighten loose muscle, strengthens the lifting effect, improves the benefits of massage, effectively lift-up and restore skin firmness.
√ IDEAL FOR GIFT: This Microcurrent face massage tool is compact and lightweight enough to carry it anywhere. It will be a Perfect gift for your Family, Friends, Skin Care Addicts, and Yourself!
Hurry up,choose this fashion tool to be your fellow ! Whenever you are travelling,in the office,in home,you can use it at any time!