Description
Do your skin has the following problem? Do you want to replenish moisture of your face anytime anywhere? 
Are you looking for a quality Electric face massager? Are you looking for a portable facial steamer ?  If so,this smart tool will meet all your needs !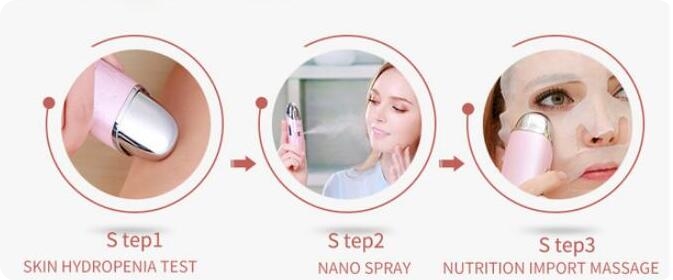 3 in 1 design: A portable facial steamer, a electric face massager, and a skin moisture tester.
This smart tool is not just a portable facial steamer or a electric face massager, it is also skin moisture tester.You can use device to test your skin in a second.It can tell you if your skin needs hydrating in seconds by merely contacting with your skin. Vibration means your skin is still moist enough, while no feedback means dryness.
A portable facial steamer: Cool mist moistens and soothes tired skin instantly, leaving skin soft and supple, great to relieve dryness from heated or cooled place.
What is Facial Steaming?
Facial sauna or Facial steaming is simply when you let steam absorb into your face for several minutes using either a face steamer, or water mist. Or the most effective results, some people have a towel over their head so that as much steam as possible is directed towards their face.
The Benefits of portable facial steamer for Beauty and Health
Benefit 1: Removes Toxins
Toxins are bad for your skin. With facial steaming, toxins are removed much faster. steam causes your skin to sweat a lot more than usual and as a result, a lot of toxins are released. When steam is applied, toxins will be released at a faster rate via the skin pores.
Benefit 2 : Deep Cleanses Your Skin
With facial steaming, you are able to have your skin deep cleansed naturally. Steam can open up your pores and as a result, dirt and bacteria can easily be removed with the use of a cleanser or a scrub. On top of that, dead skin cells can be removed easier.
Benefit 3: Get rid of whiteheads and blackheads
Both whiteheads and blackheads are a huge pain to deal with. Fortunately, facial steaming can be an effective way of getting rid of them (or preventing them).When you apply steam to your face, the pores begin to open up and the blackhead plug will soften. In other words, steam will help melt the hardened sebum, and let it run out from your pores.
Benefit 4: Helps Prevent Acne
portable facial steamer is also specifically helpful to preventing acne breakouts from occurring. And if you've suffered from acne and haven't found a remedy, facial steaming is worth giving a shot.
Benefit 5: Fights Back Signs of Aging Skin
With the help of facial steaming, you can improve the blood circulation in your face. As a result, an increase in nutrients and oxygen from that blood flow is being delivered to your skin cells. This leads to what may have once been slowly wrinkling cheeks becoming rosy and glowy.
Benefit 6: Prevents Dry Skin
Steam is perfect for enabling nourishing and hydrating skin care products to penetrate more deeply to help fight dry skin.
Benefit 7: Prevents Sinus Problems
Face steaming is that you convert water into a very moisturizing mist that helps to fight the harmful effects of dry air on your sinuses.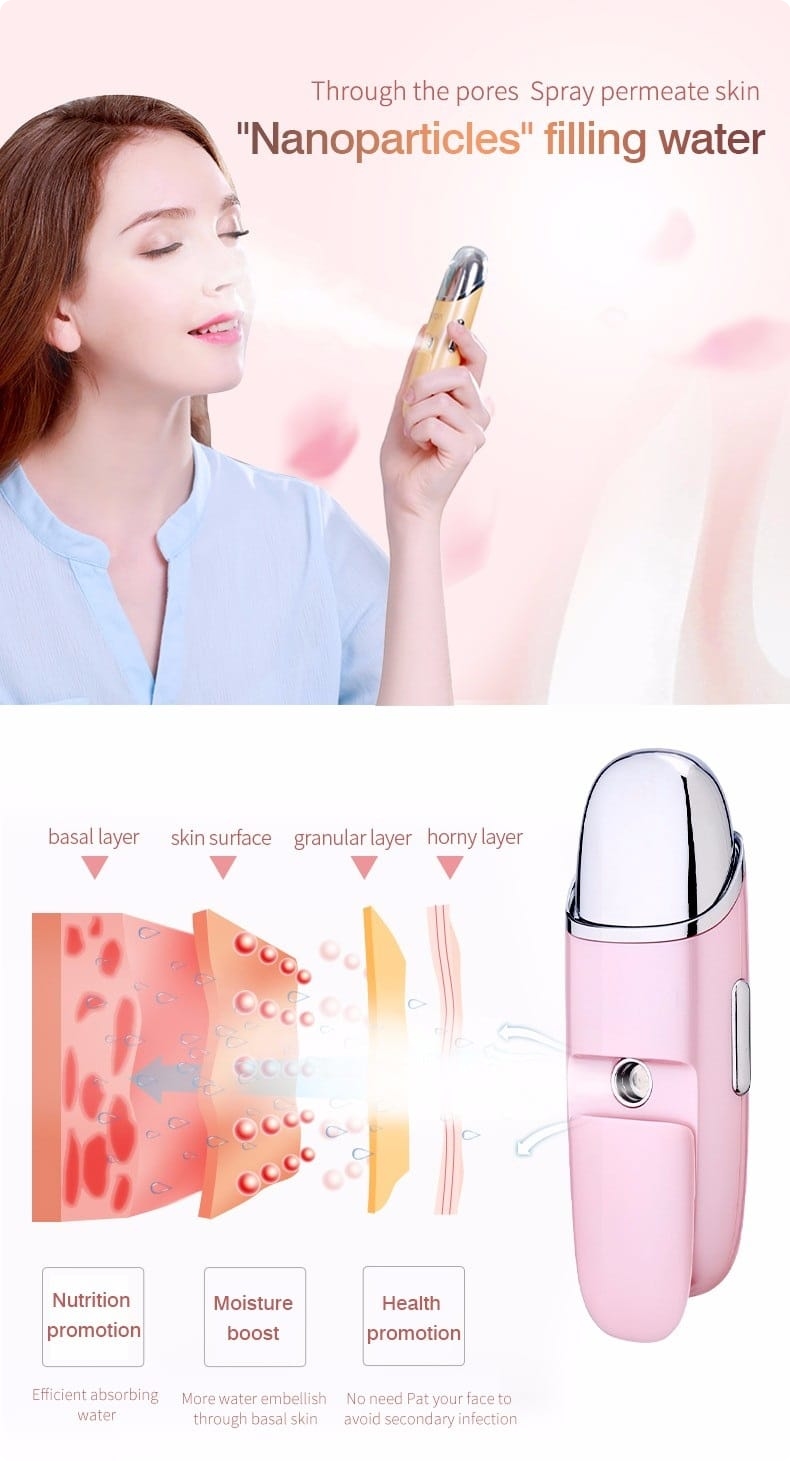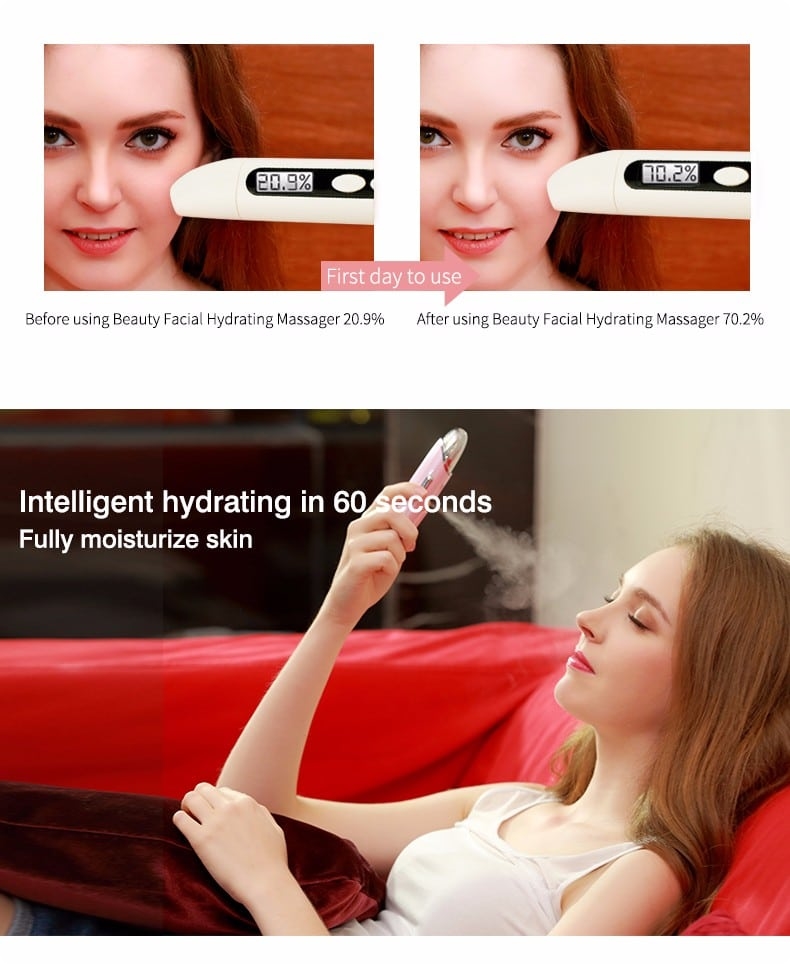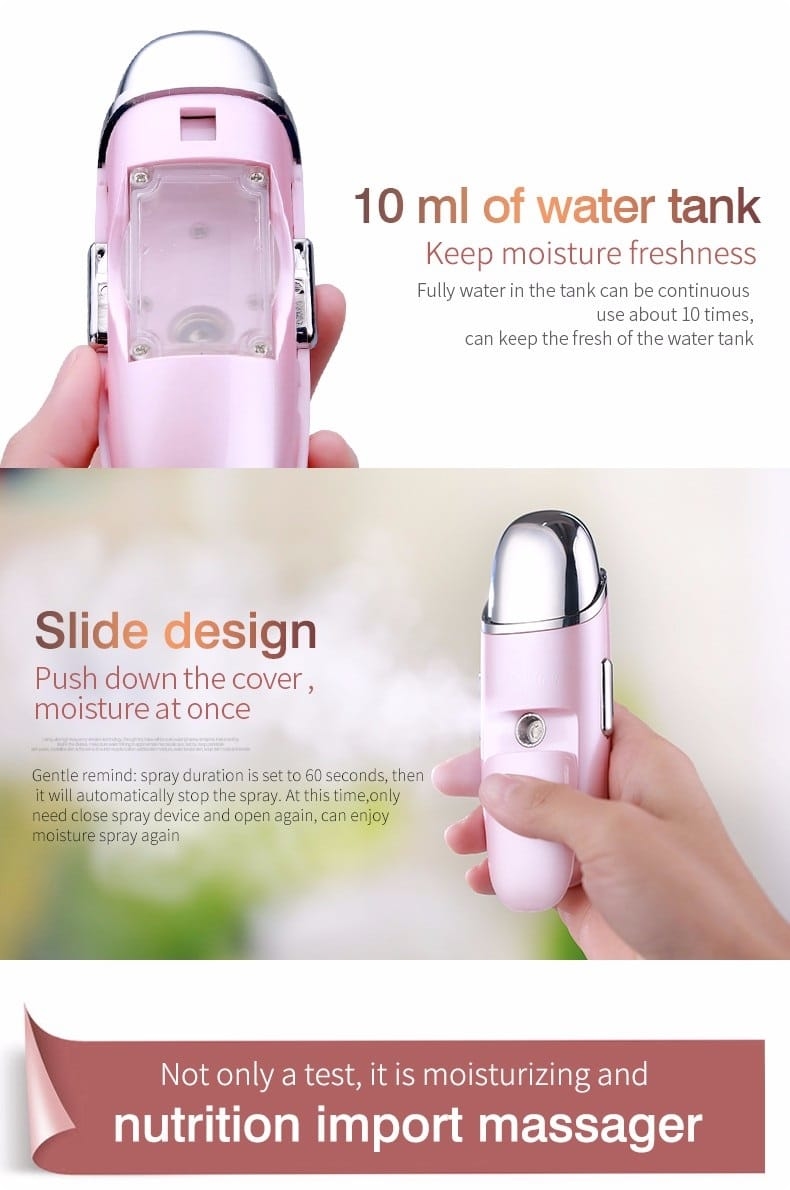 A electric face massager: FK1 massager can massage your face gently to improve skin absorption and blood flow. It helps to uptake nutrition,anti aging, relieve eye fatigue,fine lines. It also help to remove eye bags, and weaken wrinkles,skin tightening,making your skin radiant again.
7 benefits to Start Daily Facial Massage with an electric face massager
From detoxification to relaxation , face massage can be a game changer for skin's health.
Maybe You used extended massage as a prep for a facial mask. Or you did a nightly five-minute massage when you apply your night cream. Now you can use this electric face massage to make your skin happy.
1. Facial Massager can be stimulating. This is device of skin irritation. Depending on your movements, massage can help wake you up in the morning! Quick, gentle movements can make you feel alive in your skin. Try use this smart massage device massage all over your face. It is like you're gently typing. Use your smart beauty tool on the delicate area around your face and eyes.
2. Face Massage can be relaxing. At the end of a long day,or after a few hours of staring at the computer, you can use massage to relax your facial muscles and calm your nerves. Choose a moisturizer with a relaxing fragrance, and keep movements this electric face massager slow. Breath deeply and slowly as massage your skin.
3. Facial Massagers may help reduce puffiness and fluid retention. By gently massaging small circles on your facial pressure points for up to 20 seconds, you can help reduce eye puffiness and encourage lymphatic drainage.
4. Face Massage enhances product absorption. Massage will help your skin reap the benefits of any serum you apply pre-massage and any moisturizer you apply during the massage.
5. Electric face Massager improve facial muscle tone. Because it stimulates the facial muscles, massage is like a mini-workout for your face neck.
6. Electric face Massager helps you get to know your skin. The more time you spend massaging your skin, the better understanding you'll have of which areas are drier/tighter, which are rough (and made need more exfoliation), and which areas are more prone to congestion.
7. Face Massage boosts circulation (& therefore glow). Improving your blood circulation gives you glow. The more efficiently your blood courses through your body, the more efficiently nutrients are delivered to your organs. Your skin will benefit a lot!
Nano Ultrasonic technology: Producing the finest mist spray that moisturizes effectively without damaging your makeup for a refreshing lift any time.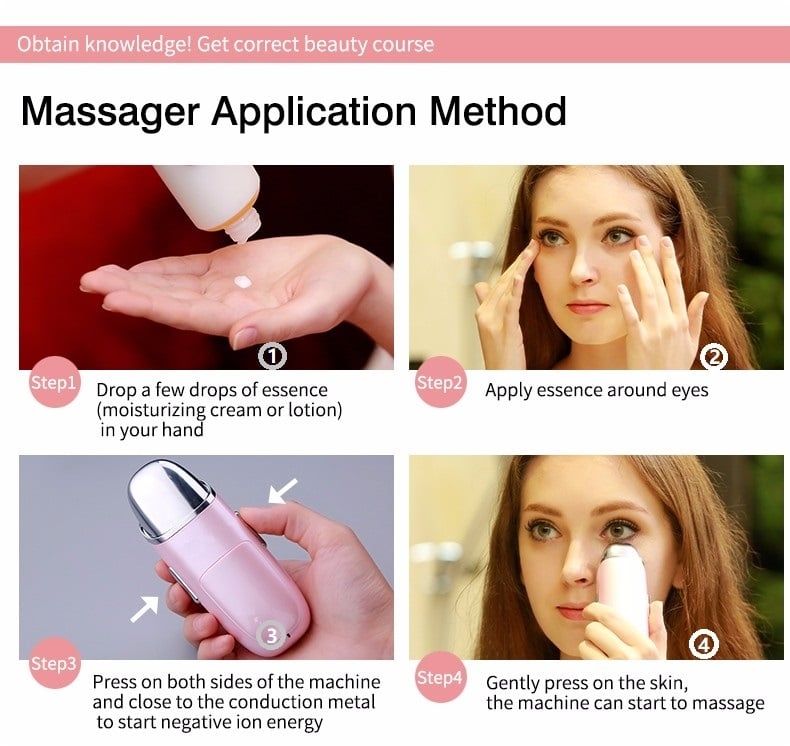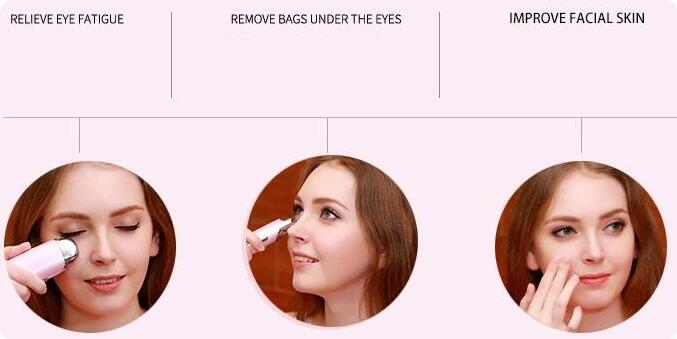 Rechargeable built-in 400 mAh battery: Can humidify for 60 times (1 minute a time), and can massage for up to a week (15 minutes a day) when full charged.
10ml water tank: Can mist for 10 times. Just refill the fresh water tank again to enjoy fresh mist.
Easy operation: Slidable cover to control its humidifying function, press both side buttons at the same time to start massaging.
Comes with a carrier bag for protection and easy carry. Just bring it with you and give your skin better care whenever needed.
 Notes: 
1. Please clean the massager with cotton pad or dry cloth and not use any detergent or liquid after use.
2. Please don't modify, repair or open the product. Improper handling may result in short-circuiting, product damage, or even fire.
3. This sprayer is not suitable for any body parts with implantation of silicone, metal or other foreign matter, nor can be directly used on the eye.
4. If you have any skin discomfort or an allergic reaction, please stop using immediately.
5. If you have had a face peeled or injected with Botox, please use the product after 6 months of treatment.
Specification:
1. Input voltage: 5V
2. Charging time: 3-4H
3. Material: ABS + electronic components
4. Working time: 6-8H
5. Motor output: 30-100mA
6. Misting current: 350-420mA
7. Battery capacity: 400mAh
8. Water tank capacity: 10ml
9. Misting time:  1min (Automatically stops after 1min)
10. Misting amount: 50-70ml/H
11. Item weight: 75g / 2.6oz
12. Item size: Approx. 12 * 4.7 * 3cm / 4.7 * 1.85 * 1.18in
Package Contains: 
* 1 X Bottle for adding water
* 1 X Carrying bag
* 1 X E-More Beauty Hydrating Massager
* 1 X USB Charging Cable
* 1 X User Manual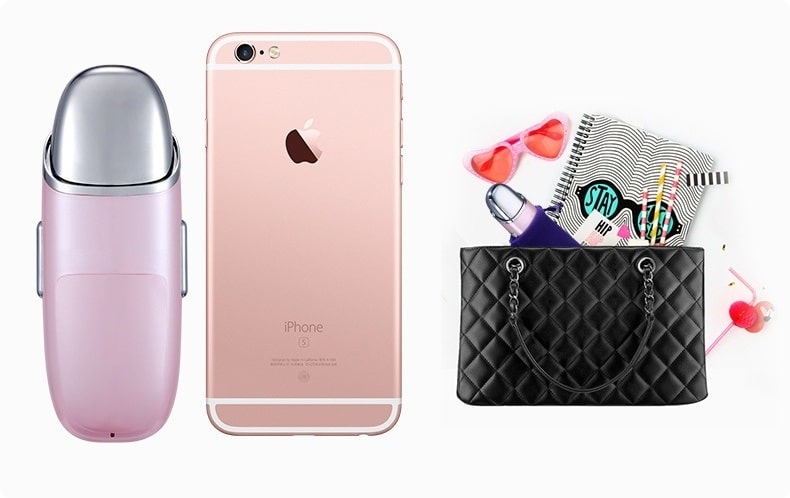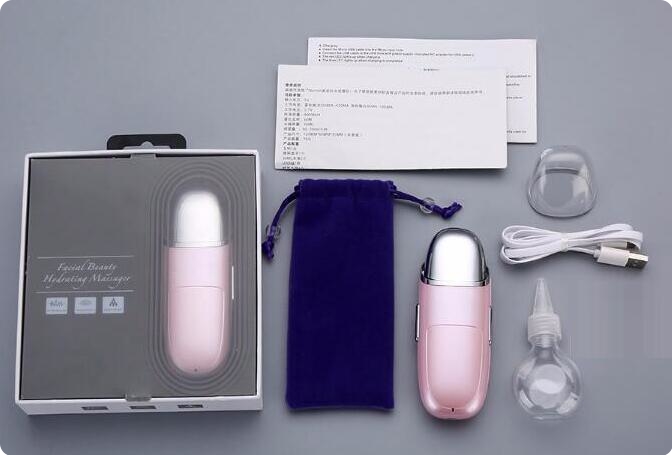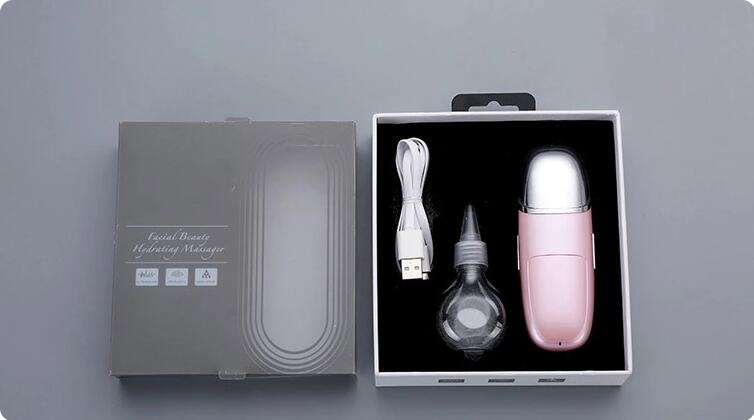 Hurry up,choose this fashion tool to be your fellow ! Whenever you are travelling,in the office,in home,you can use it at any time!